Introduction to Digital Signage Enclosures and Floor Standing Kiosks
With our customised Digital Signage Solutions, you can increase the life span of TVs, LCD monitors, printers, computers and other equipment that needs to be protected from dust, water and corrosive conditions. You can also prevent tampering of the equipment by users or hackers, while maintaining a professional appearance. Popular materials used are stainless steel or electro galvanised steel, which are anti corrosive, together with a finishing of powder coating, our enclosure housing is sure to give a long lasting, beautiful and practical solution to your equipment and hardware! We have various standard models for indoor kiosks, outdoor kiosks, wall mount signages, which can all be placed in either portrait or landscape positions.
Here at Equipment-Enclosures.Com we understand at times you need something special only for your business. We can build for you a custom made model to fit your requirements perfectly. Our extensive and flexible production system offers the possibility to create models in a wide range of sizes, configurations, and designs that put your business ahead of others!
---
55" TV Outdoor Enclosure
+ Suitable for 55" LCD Display
+ Cover stay for Lid
+ Durable powder coated steel structure
+ Cooling options at chassis and display enclosures


Width: 1400 mm
Height: 2000 mm
Depth: 700mm
---
Outdoor LCD Enclosure / TV Housing
+ Suspended TV Housing Enclosure
+ Water, dust proof
+ Key Lock
+ NEMA 4X rating
+ Ventilation louvres/slots at rear
+ LCD mounting brackets
+ Suitable for 47" LCD TV
+ Electrogalvanized steel
+ Epoxy Powder Coated Matt Finish
+ Price: $950.00
---
Standing TV Display Housing
- Stainless Steel Construction
- 52" Touch Screen Panel
- Floor Standing
- Aesthtical design with ergonomical considerations for easy viewing
---
PC Enclosure for Industrial Touchscreen Computer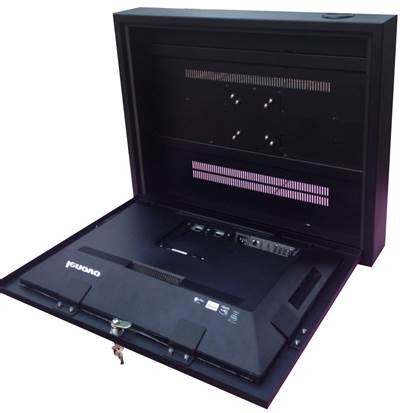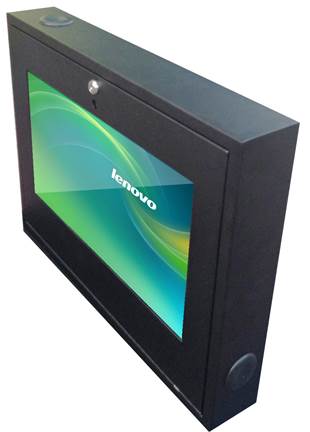 + Water, dust proof
+ Key Lock
+ Cutouts for camera and power supply cables
+ Ventilation louvres/slots at rear
+ Wall Mount
+ VESA universal mountable
+ Suitable for 21" Touchscreen Computer
+ Electrogalvanized steel
+ Epoxy Powder Coated Matt Finish
+ Price: $650.00